Thursday 15 July 2021 | 19:00 start | Register to receive Zoom link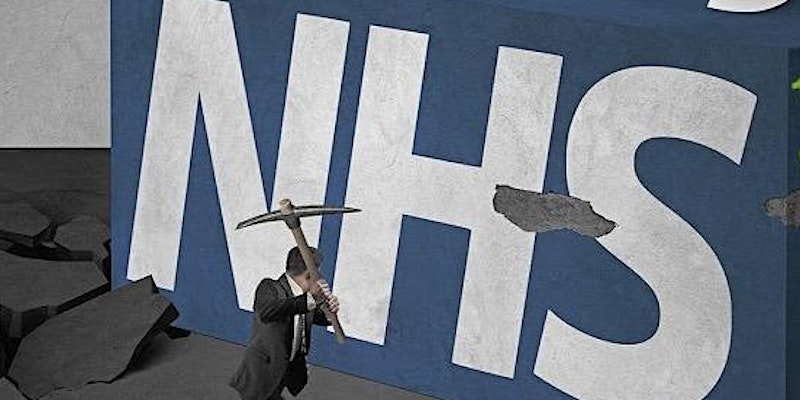 The Ealing Green Party and friends are excited to host an online event with Dr Bob Gill, an NHS doctor, campaigner and creator of the documentary The Great NHS Heist.
Dr Gill will talk us through his journey from NHS doctor to campaigner to stop our national health service from being sold off to greedy corporations.
This is a free, online event. Dr Gill will answer your questions after his talk. It is not too late to stop the NHS from being sold off piece by piece. Join the event to find out what can still be done.
Take some time out of your busy schedule to watch The Great NHS Heist and then join us and Dr Gill to find out more.
More about The Great NHS Heist
How a nation was robbed of its most treasured possession
The British National Health Service (NHS) is one of the nation's proudest achievements, lifting burden from the sick, replicated across the world. But it has been under sustained attack over decades by successive governments.
Realising that privatisation would be unpopular, the Thatcher Government instead started a programme of outsourcing. This continued and expanded under the Blair New Labour Government and up to the present.
It required careful planning and a series of legal and structural changes spanning thirty years to bring it to the brink of American corporate capture; or as one former policy adviser put it: reduced to 'a funding stream and a logo.'
A docile and complicit media have failed to hold power to account and inform the public about what is really happening to their NHS. Austerity and chaos over Brexit has provided perfect cover for the engineered failure of services, necessary to persuade the public to fall out of love with the NHS. NHS land, patient data and tax-funded budgets are all up for grabs.
How did we get here? This film reveals "The Great NHS Heist."
"Even if you only care about efficiency, the National Health Service should be preserved like a jewel" – Yanis Varoufakis
Documentary film. Running time 126 minutes.
Director: Drew McFadyen
Producer: Dr Bob Gill
Written by Dr Bob Gill & Drew McFadyen.
Narration by Peter Egan
Filmed in 4K UHD Post production carried out on 4K workflow and edited using BlackMagic Designs Davinci Resolve